▲
Over 21,173 Listings in Public Marketplace
Join the construction equipment industry's fastest growing, global community
Krank's unique network marketplace technology is being adopted by some of the industry's key influencers and fast becoming the collaboration tool of choice.
JOIN NOW

The unique B2B auction solution that puts you
in control
Whether you're a seller hosting your own auction, or a bidder looking to bid, Krank's unique B2B auction solution offers the control you need to help establish clear terms and securely control deal flow from inspection to delivery.
HOST YOUR AUCTION NOW

Public auctions You might be interested in
The buying and selling of Construction equipment reimagined
Buying and selling construction equipment is not the same as buying and selling a car, or any other fast-moving product. Anyone who works in this industry knows that it takes hard work, skill and the tacit ability to 'know your industry'. They also know that it's a contact sport and that connections go to the heart of every successful business network, large or small.

Krank has reimagined the Online arena, putting your business networks at the heart of your engine room, your products and requirements up front and centre, and ensuring that you have the tools to manage your business' dispositions, purchases and connections from wherever you are.
GET STARTED

At your desk or
On the go!
Choose your
audience
Krank's privacy and share options ensure you that you're always in control of who sees what, where and when.
Invite your connections
And build your networks
Inviting your business connections to connect and network with you promises the broadest Reach. Dormant email addresses in your database can be repurposed into live private networks and revitalised into new business opportunities.
Assign multiple co-workers
To your listings
Assigning multiple co-workers when creating your sale, rent or auction listings mean that trade enquiries can be directed to the right people at the right time, wherever they are and ensure that no opportunity is missed.
Tag and communicate with
customers directly from the field
Whether out in the field or in the office, tagging customers in a listing will send a gentle prompt to let them know you're constantly working for them to fulfil their equipment needs.
START NOW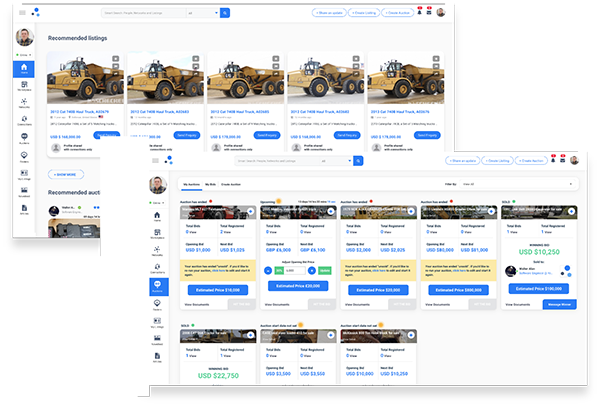 Manage and grow your business Online
We live in challenging times and as many of us seek smarter solutions to get work done more efficiently and effectively, there has never been a better time to step back and think out of the box.

Krank doesn't involve itself ever in your deal flows, our platform is not interested in the ticket size of the items being traded through it and that means there's no conflict in our business model.

The aim of our unique network market technology is to be a driver for growth, your growth and to provide you with a set of tools that will simply help you collaborate more easily, connect and trade smarter.
GET STARTED

How to get
Started on Krank?
Register with your business email address. If you don't have a business email, you'll need an invitation from an existing business on Krank
Customize your profile
Create your marketplace of sale and rental listings. Start hosting your own auctions
Get ready for business; invite your customers and suppliers
Get your team onboard and invite your co-workers
GET STARTED

Frequently
Asked questions?
1. How does Krank make money?

Krank does not charge commissions or fees on transactions, so how does it make money? Our business is based on the 'freemium' business model which means that we provide our users with certain basic services for free and then intend to charge for upgraded, premium services in the future. During Krank's launch phase we are providing all users with access to all premium services for an initial period of 3 months, for free.

2. Which type of auctions can I host on Krank?

Krank gives you the option to host either: a. 'reserve' price auctions, where you predetermine your reserve (minimum) price you are wIlling to sell your item at, or b: 'no-reserve' price auctions which means that you simply commit to selling your item to the highest bidder, without any reserve.

3. Who owns the bidder data in my auction?

Unlike traditional auctions where bidder data belongs to the auctioneers, Krank's owner-auctions work only by potential bidders connecting and networking with you and your company first - 'before' being allowed to bid on your items. This not only means that you build your business networks, potentially with every auction but it also importantly means that you know who you're selling to, and your buyers know who they're buying from.

4. Do I have privacy controls for my auctions and decide who can
bid in them?

Yes, when creating your auctions, you'll be able to select from various privacy options and decide who can see them. If you want your auctions to be visible to everyone, you can simply select the 'Show & Share' privacy. If a bidder registers to bid on your auction but you would prefer them not to, you'll be able to block them as a bidder – as long as they have not placed a bid up until that point.

5. What are my networks and connections?

Your networks are companies that your company 'privately' networks with. You can create multiple-private networks with all of your customers and suppliers, with each one containing your company and one other customer or supplier only.

Your connections are your personal connections that you make either with your co-workers, or your customers and suppliers – once you have privately networked with their companies.

6. Can my connections only be viewed by me?

Your connections can only be viewed by you through your own personal dashboard but will be visible to your co-workers in the company networks. However, if you don't want anybody to see your connections at all, you have the option to invite 'private connections' which will only be visible by you.

7. Does Krank recommend my company's networks to other companies I am networked with?

No, absolutely not. Krank's architecture was not built in this way. Your networks are 100% private and your connections within those networks are too. Krank will only recommend connections to you from companies you are already privately networked with.

8. Is the Krank App available on both iOS and Android?

Yes, you can download Krank's powerful App from either the App Store or Google play